I did not want to title this post as 'How to be remarkable #71: Label people". However, this post is about labelling. About instinctive and subjective labelling.
Not happy with 'the naively egalitarian' Myers-Briggs test, BJ Fischer has proposed a newer (and better?) system for classifying personality types. Fischer arranges people people on two dimensions: competence (how smart are they?) and niceness (how difficult are they?).

Thus, Fischer is able to put every person he meets in one of these four boxes - the Four People You Meet on Earth.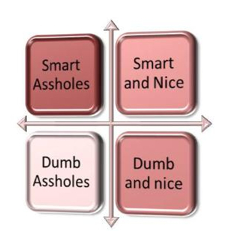 It is an interesting new idea of labelling people and I have never been a believer in labels. But Fischer got me with his label of smart assholes. We see plenty of these around us all the time. I am happy to see Fischer accepting that the four people model is 'superficial (model) for superficial relationships.'
Also read:
A simple guide to personality theories: The Success Manual
Read The Successmanual Online | Get Our RSS Feed  | Follow us on Twitter