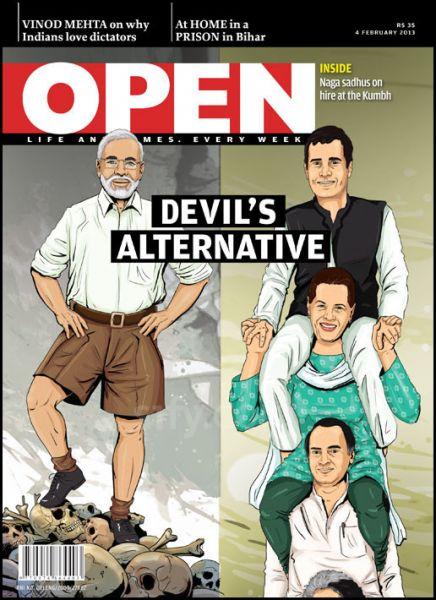 In 2013, Open Magazine was a pretty decent news magazine by Indian standards. It did good reporting of the naxal conflicts. It skewered both big parties and their 'family' agendas. The above cover is from 2013. In those days, the Open Magazine was a solid companion to Outlook, acting as a good counterpoints to the inane India Today.
Hartosh Singh Bal and Manu Joseph led Open magazine at the time. But they became too 'anti' of the powers-to-be and like most magazines / media brands, Open too is owned by a businessman who is not into it for the love of the free press. FYI, Sanjiv Goenka owns it, and he soon forced first Hartosh Singh out in 2013, and then Manu left in 2014.
Curently, Open magazine is playing second fiddle to right magazines / websites like Swarajya, trying its best to give government-owned Prasaar Bharti a run for its ingratiating loyalty in running pro-governemtn stories only.  The people leading Open magazine at the moment, PR Ramesh and S Prasannarajan, are close friends of the powers-to-be and the writing is generously cliche ridden - big words straight from UPSC examinations, meaning nothing. Writing only to prove how intelligent and hard at work the editor and the writers at Open Magazine are. 
Top headlines from this week's Open Magazine read like Prasaar Bharti in print:

Siddharth Singh: The performer's boldest stroke
Dhiraj Nayyar: For a cleaner, fairer and faster future
Amita Shah: Just Do It, The Nitin Gadkari Way. He wants to connect India, boost the economy, generate millions of jobs, conquer pollution and clean up the Ganga—all of it in time for the next General Election. The ambitious Union minister in…
Pallavi Pundir: A Day in the Life of a Cashless Village, Digitally Jhattipur


 
A typical Open Magazine cover in 2017: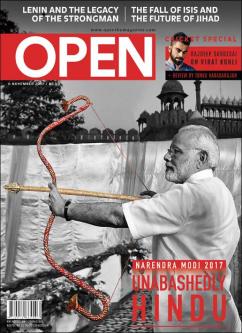 Sad.