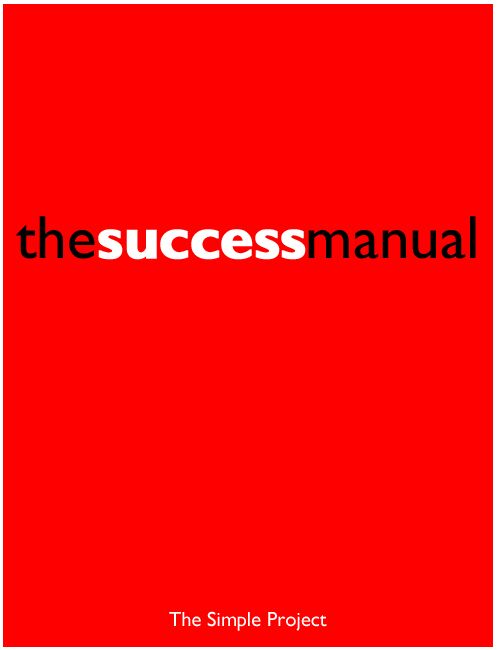 Learn 125+ Simple Things to Succeed in Work and Life

Forget Dense and Repetitive Business and Self development books and Blog Posts. We've Cut Out the Fluff and Given a You Simple but Powerful Collection of Wisdom to Help you Master the Essentials for much less than the cost of application form of Harvard Business School.

Nowadays, there seems to be no end to the avalanche of information on Business and Self development. Unoriginal Business Books with fancy titles, Pompous Self development books, Rambling Blog posts, So-called Gurus holding the keys to Success...you must have seen them all. But frankly, who has the time to pore through endless resources, looking for the key to online marketing riches?

This Started our Wheels turning, and we at The Simple Project asked ourselves: "What if we created a simple, readable book that got people buzzing with fresh ideas about business and personal betterment…ideas they could start using right away to improve their business or life, as the need may be?"

So We Made a Great List of the Best Books and Articles
We looked at all the Popular Best Books lists on the Internet. We also looked at the Popular Self Development Blog posts. Then, We set about compiling a never-before compendium of the Best Business and Self Development Advice available to Man. Our Chief Goal was to create a Compact Guide, one packed with Pointed, Practical bits of Wisdom, which we arranged across more than 125 Topics. tips that focus on what today's online marketers care about most: getting real PROFIT from keywords. Cutting out all the Fluff, We wanted to create Pages chock-full of only What You Needed to Know, that you could just Print out and Paste on the walls for Reference. We know how busy you are

The Result is the Most Powerful Guide to Business and Self Development Ever
In the Extraordinary New Guide, Presently in only E-book (PDF) form,  "The Success Manual", You'll learn how to use Start Businesses, How to Run Businesses, How to Manage Yourself, How to Handle Money, How To Write Well, How to Write Online... in a form you've never used before. This Compendium of Advice, with 125 + topics will help you take control of your personal life as well as Work, Sving you Time, Effort and of course Money.

Buy now for only $35
The Success Manual has Summaries of 100+ Best ever Business and Self Development Books. This Revolutionary Guide also has Collected Wisdom from the Best Business Gurus as well as the Greatest Men of all time. It is Almost Like Getting a Complete Business Course for only $35. For a sample list of books and gurus whose wisdom finds a place in this never-before guide, click here

The Advice is arranged across 125+ topics. Here's a Sneak-Peek at What's Inside:

Part 1: "Be Better,"
35 Topics - Success, Positive Thinking...

Part 2: "Do Better"
41 Topics - Creating Wealth, Persuasion, Happiness and more.

Part 3: "Think Better"
6 Topics - Creativity, Genius, Problem Solving and other things that make us smarter.

Part 4: "Write Better"
9 Topics - Business Writing, Online Writing and most importantly, Persuasive Writing.

Part 5: "Work Better"
25 Essential Work Skills - Career Management, Meetings, Teams, Projects Leadership, Productivity, Negotiation, Communication and much, much more.

Part 6: "Do Better Business"
14 Important Business Skills - Management Basics, Marketing, Strategy, Human Resources, Accounting and more...

Part 7: "Start a Business
Start up basics and summaries of 7 best books on entrepreneurship.

Part 8: "Read Better Things"
A library of essentials business reads .

Click here for the Full Table of Contents of The Success Manual

Don't follow the herd!
Listen, it's not just the right books and courses that guarantee your success - but how you use the knowledge you have gained. We don't want to to blindly follow the same, tired research path that everybody else follows. Take the smarter, faster and cheaper route to success in business and life.

Don't follow the herd! Blaze your own successful path in your chosen field your own way. Start doing something right now. Order "The Success Manual" and get started today!

Buy now for only $35