This guide belongs to 100 Ways To Be Being Remarkable  Series, a special project that brings you business and self-development advice from The Success Manual.
Transcript of a useful presentation I just uploaded on Slideshare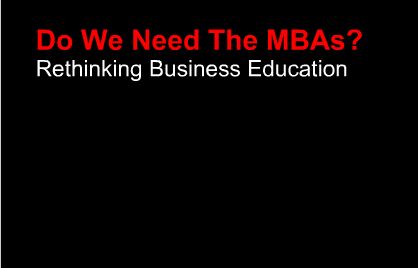 1. Do We Need The MBAs? Rethinking Business Education
2. How do you teach obsession? Because often it is obsession that drives an entrepreneur's vision. How do you learn to be an outsider if you are not one already? - Dame Anita Roddick, founder of Body Shop
3. MBAs Cheat. 56% of all MBA students cheat at Exams. Source: study by the Academy of Management Learning and Education of 5,300 students in the U.S. and Canada
4. What's wrong with MBAs? Business Education is not about Business. It is about Money. Source: http://sprizouse.blogspot.com/2008/11/amoral-mba-students.html
5. Can you name any successful, path-breaking, innovative company started by an MBA?
6. MBA Salaries Are Insane
7. What do MBAs Actually Do? MBAs ran Enron (2001) and these superstars of the subprime crisis 2008-9
8. MBAs Often Make Bad Bosses. Their education does not always make them nice people. Pictured alongside is Alec Baldwin in "Glengerry Glen Ross"
9. Create Boring Companies
10. Where People Don't Love Working Pictured alongside is a scene from Mike Judge's "Office Space"
11.
* MBA Teaching
* Is Overrated
* A. Fanciful, fictional case studies
* B. High on theory, low on practical.
* C. Formulae for everything.
* D. Students learn not to talk or write like
* humans do.
* D. Professors who have rarely worked as an
* entrepreneur or senior manager.
* F. Schools create a mystique of excellence by
* Choosing only the high scorers.
* G. Group work is over-hyped - B-Schools
* reduce every problem to meetings and group
* discussion.
* Source: Michigandaily.com
12. MBAs themselves are over-rated. Add $500,000 for every engineer in the company. Subtract $ 250,000 for every (overpaid) MBA onboard. - Guy Kawasaki's formula for valuing new companies
13. Some of the best successes on the internet are single or two person stories.
14. MBA degrees don't guarantee a job. Three main issues facing the workforce: A. Self- Employment B. Re-killing C. Staying ahead of the competition. Source: Michigandaily.com Wall Street Journal
15. Let us reform our schools and we shall find little reform needed in our prisons. - John Ruskin
16. Education is very expensive.
17. Let's Start With Using Common Sense
18. And A Will To Teach Ourselves
19. B-Schools Do Not Teach Everything
20. Books Do
21. We Can learn Business in 1 Day
22. Or, in 10 Days
23. How about 30 Days?
24. Or, Read The Best Business Books AKA The Personal MBA Manifesto
25. Read The Success Manual Encyclopedia of Advice - 130 Topics - Summaries of 100+ Greatest Business Books - Advice from Great Experts, Gurus, Writers - 3000+ Quotes $14.95 only https://www.thesuccessmanual.in/all-in-one-skills-guide

If you liked this article, please bookmark it on Delicious or share on Twitter. Thanks, friends. Follow us on Twitter.
We don't recommend any other guide than our very own The Success Manual - Encyclopedia of advice to 130 most important skills.