The Bihar floods of 2008 has affected more than 3 million people till date.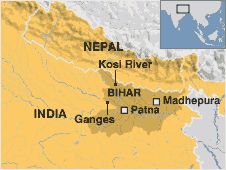 The impact
After the Kosi river broke a dam in Nepla, the state of Bihar in Eastern India has been hit by the worst flooding in 50 years, which the Indian Prime Minister says is a "National Calamity" and has announced a relief package of Rs. 1000 crores.

According to the Press Trust of India, over 30 lakh people in more than 1000 villages in 16 districts of Bihar - Saharsa, Supaul (243 districts), Madhepura (378 villages), Araria, Purnia, Katihar, Khagaria, Muzaffarpur, West Champaran, Saran, Sheikhpura, Vaishali, Begusarai, Bhagalpur, Patna and Nalanda - have been affected by the floods. The first four districts were the worst affected where over 22.75 lakh people in 755 villages were affected by the Kosi River fllods.

State government sources say that over 350,000 people have been evacuated during the past 10 days and more than 100,000 people are living in over 100 relief camps.
Rescue efforts are hampered by rain and damaged roads.

While the Bihar government puts the official death toll in floods after the Kosi river changed course at 12, international NGO ActionAid whose people are involved in relief operations says 'it is likely that 2,000 people have died', saying the government does account for people who are missing.

Air Force choppers and Navy divers have been pressed into service, and offers of help are coming from other state governments.
There are reports of boat makers along with Dacoits and Molesters enjoying brisk business amidst all the chaos and sorrow.

Kosi - Bihar's sorrow
The Kosi is a young river and according to experts, it has yet to settle on a fixed course. An article in the Indian Express explains the unsettled nature of the Kosi River:


"Prior to 1731, Kosi used to flow by Purnea and Forbesganj. It last changed its course in 1952. The river started sliding towards the west, flowing by Murliganj in 1892, Madhepura in 1922, Saharsa in 1936 and by 1952 it had reached Darbhanga."

Having veered eastwards from its course by 200 kilometers, the Kosi River is now flowing from Bhimnagar to Birpur, Araria and Purnea to flow into Ganges at Kursaila in Saharsa, after a 225 km-long-journey.
It did not help things that the government resorted to building embankments to contain the river, which caused the river level to rise easily aided by increased silting of the river.
It also does not help that the Kosi River operates in an area of dense population that depends on agriculture for its livelihood.

Naturally, when in August 2008, the Kosi River burst a dam in neighboring Nepal, sorrow flew easy, catching everyone by surprise.

Why floods happen in Bihar
When we say that Bihar is India's most flood-prone State, we actually mean the plains of North Bihar, a low lying area accounting for 76 percent of the states' population, occupying about 68800 sq Km of land out of total state area of 94160 sq Km (73.06 percent of the state's land).

Some 8 big rivers originating in the Himalayas in Nepal drain in Bihar - the Kosi, Gandak,Burhi Gandak, Bagmati, Kamla Balan, Mahananda and Adhwara Group of rivers. These rivers swell easily during the monsoon season and so far there have been no solid way to contain the annual floods. Along with water, these rivers carry a high 'sediment load' from the mountains, causing river beds to rise to alarming proportions. As long as the Ganges river, acting as a 'mighty drain' catches them, things are easy But when the Ganges itself is full tight, floods happen.

Nepal Government's Responsibility: Nepal foreign minister Upendra Yadav says that as per the April 1954 Kosi Agreement, "The responsibility for the upkeep, maintenance and repair is with India ... it is clearly written in the agreement,"

Indian Government's Responsibility: The Nepalese Foreign Minister also says that India has not conducted necessary repairs of the Kosi barrage for 5-7 years.
Looking at the magnitude of the impact, tit is safe to say that the Bihar Flood catastrophe of 2008 will have long-term consequences.
Your turn:
If you have anything to offer - relief material, local news, useful phone numbers, mobile numbers and e-mail ids, who is doing what? please share either in the comments below or submit a link to bighow.com/links and tag your link with "bihar floods 2008" or, you can post on your own blog/site linking to this page for other readers, or you can just simply email this page to others.