Simple Things #1: The One Page Business Course
Posted on October 25, 2016 By thesuccessmanual Topic: Poster, Simple things, Mba, Business course
This text poster is the first in the series of Simple Things series - The One-Page Business/MBA Course.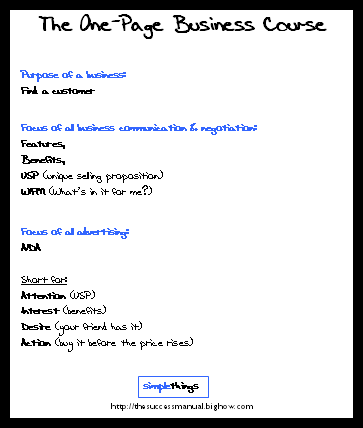 If you liked this, please check out these great collections of useful advice:
1. The Gist:  1000+ Big Ideas From 200+ Greatest Business & Self-Improvement Books of all time.
2. Rules for Startups:  A Never-Before Compilation of Big Ideas About Startups from 50+ Best Books on Entrepreneurship.
3. Rules for Writers:  200+ Big Ideas About All Aspects of Writing from Great Writers.
4. The Success Manual -  600+ pages of compiled wisdom on 125 important traits, skills and activities.