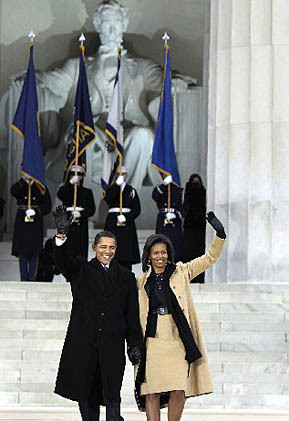 The Obama Inauguration will start on January 20, 2009 starts at 11:30am Eastern Standard Time ( 8:30am for West Coast United States, 4:30 pm UK time, 9:00 pm Indian Standard Time) and will cost upwards of $170 million. More than two million people will attend the inauguration beating the previous attendance record set during Lyndon Johnson's inauguration, when 1.2 million people attended.

First the schdelue

The Inauguration schedule [via Wikipedia]
- Gates to the Inaugural Ceremony open at 8:00 a.m. EST (13:00 UTC)
- The inaugural festivities are scheduled to start at 10:00 a.m. EST (15:00 UTC) on the West Front of the U.S. Capitol. Scheduled festivities include:
Musical selections of The United States Marine Band, followed by the San Francisco Boys Chorus and the San Francisco Girls Chorus.
Sen. Dianne Feinstein provides call to order and welcoming remarks.
Invocation by the evangelical pastor Rev. Rick Warren.
Musical selection of Aretha Franklin.
- Joe Biden will be sworn into office by Supreme Court Justice John Paul Stevens.
Musical selection of John Williams, composer/arranger with Itzhak Perlman, (violin), Yo-Yo Ma (cello), Gabriela Montero (piano) and Anthony McGill (clarinet).
- Obama will take the Oath of Office around noon EST (17:00 UTC), administered by Chief Justice John Roberts using the Inaugural Bible of President Lincoln.
- Obama gives the inaugural address.
Poem by Elizabeth Alexander.
Benediction by Rev. Joseph E. Lowery.
The National Anthem by The United States Navy Band "Sea Chanters."
- President Obama escorts former President George W. Bush to a departure ceremony before attending a luncheon in Statuary Hall at the U.S. Capitol.
The 56th Inaugural Parade will then make its way down Pennsylvania Avenue from the U.S. Capitol to the White House.


Later, the Obama couple will attend 10 inaugural balls.
An expected 200 million viewers worldwide will watch Inauguration videos and live streams over the Internet.

Aggregator Pages
Alltop is tracking 45 websites and blogs and Twitter, including images http://obama.alltop.com/
Twinauguration 2009 - Covering the activity on social media sites http://twinauguration.com/

Liveblogs
Google Blogsearch Liveblogging the Obama Inauguration
Guardian LiveBlog http://blogs.guardian.co.uk/burkeman

Live Video
C-SPAN - Live broadcast through Moghulus http://www.c-span.org/
CBS http:/www.cbsnews.com/inauguration.
ABC News http://abcnews.go.com/
MSNBC http://www.msnbc.msn.com/ http://www.politics.msnbc.com/
CNN Live http://www.cnn.com/live/
NYT [speech and swearing-in only] - http://nytimes.com/
Terra Spanish http://noticias.terra.com/elecciones-2008/portada.htm English http://en.terra.com/news/elections-2008/
Hulu http://www.hulu.com/live-playerembed.swf?referrer=none&pid=kqDzjGqsvKQZKY1CUG_aDSkM_bxqboC5
UStream http://www.ustream.tv/blog/2009/01/16/history-inauguration-live-on-ustream/
Kyte (mobile tv) http://extratv.warnerbros.com/
CurrentTv http://www.current.com/44

LiveStream http://juricko.com/2009/01/watch-the-barack-obama-inauguration-free-online-video-coverage/

P2P Video
Livestation [ switch between video from BBC, C-SPAn, Al Jazeera etc. ] http://www.livestation.com/inauguration

On iPhone
Inauguration report

On Twitter
http://twitter.com/obamainaugural
http://twitter.com/inauguration
http://twitter.com/CarfreeJan20

Search Twitter http://twitter.com/search/users?q=inauguration

Extra
Obama Inauguration carbon calculator http://www.obamacarboncalc.com/