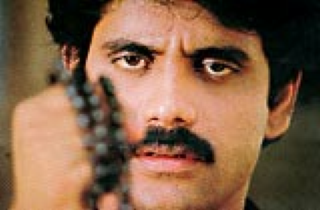 In the words of Amartya Sen, "Indians like to debate". If that were true, then it would be safe to say that along with cricket, cinema and corruption, we love talking about politics. As the general elections of 2009 drew near, i have put together this simple list of political films in Hindi worth watching.

Those who know their movie will discover that most politics-related films cover the 'politics-business-gangster' theme set. The reality of Indian politics, especially after the Mandal Commission, is that politics is all about caste and religion; these are the two criteria that determine a citizen's vote, other than money power and development issues in some pockets.

We have yet to see realistic films about caste and religion, with an election background. Maybe, these topics are too controversial to get into. But, isn't it true that controversies are good for business nowadays?

Political Films by Gulzaar
Aandhi: Love in the time of elections. In Gulzaar's film, Sanjeev Kumar, Suchitra Sen star as star-crossed lovers. Sanjeev Kumar is the manager of a hotel where politician Suchitra Sen comes to stay during elections. Parallels to Indira Gandhi were drawn on the film's release. Songs from the film are evergreen hits.

HuTuTu: Gulzaar's bleak but true look at contemporary India politics where politicians and businessmen are intertwined. Tabu and Suneil Shetty star in this low-key film that should have found more audience than it did in 1999. Sad ending.

Political Films with Superstars

Aaj ka MLA Ram Avtar: In this 1984 film, Rajesh Khanna stars as a simple barber who becomes MLA using typical politician methods.

Main Azaad Hoon: Inspired by 'Meet John Doe' (1941), a Gary Cooper film. Amitabh Bachhan stars as an ordinary man on the streets who is made to pose as a hero by a reporter. See it for how media and politics feed on each other.

Leader: An enjoyable film starring the original Actor of Actors, Dilip Kumar. One of the first movies about vested interests in politics.

Political Films about contemporary issues

Kissa Kuris ka: You must see this film, which is a funny but real take on Indira Gandhi's politics, about Sanjay Gandhi and how the system works. Directed by Amrit Nahata, Kissa Kursi Ka was banned by the Indian Government on release and all prints were confiscated. http://www.imdb.com/title/tt0311401/

Shool: In this hard hitting film set in Bihar, Manoj Bajpayee stars as a honest officer who is in a tough fight with a corrupt local politicians played by Shayaji Shinde. A must watch. It was E. Niwas's first film and the director went on to make idiotic films, a complete sold out to bollywood's masala culture.

Sehar: Another hard hitting film about politics and crime, this time set in Uttar Pradesh. Arshad Warsi's only role (a heroic cop) worth remembering other than the Munnabhai films and "Tere Mere Sapne".

Pratighat: A film starring Vijayashanti, as a woman who takes on a city political/mafia boss. Gritty.

Ankush: Nana Patekar's breakout role as one of a group of unemployed young men who become angry at the system and ultimately sent to death. Directed by N/ Chandra, another director who sold out to the mainstream after same good movies at start of his career.

Hazaar Khwahishen Aisi: Sudhir Mishra's fim about politics in the seventies, about rich young men with idealistic visions, few of which turn into reality. More known for the liberated woman played by Chitrangada Singh than anything else.

New Delhi Times: Shashi Kapoor stars as a journalist facing politicians and corruption.

Aghaat: Govind Nihalani's film on Union Politics starring Naseeruddin Sanh and other acting greats. Written by late playwright Vijay tendulkar.

Satta: Directed by Madhur Bhandarkar, Raveena Tandon stars as female politician who rises to the top.

Nayak: This is another enjoyable Anil Kaporr film where a journalist becomes Chief minister for a day. Although this movie is a bit ruined by making the hero into superman of sorts, some ideas about how to make government work are really interesting.
Political Film by Prakash Jha

Damul: Prakash Jha is best known for his 1984 film Damul, a film on caste politics and bonded labor in Bihar. Starring Dipti Nawal.

Gangajal: A movie set in Bihar but shot in Maharashtra about the fight between a police force led by S.P. played by Ajai Devgan and corrupt, criminal politicians, where the cops use brutal methods to pit fear in criminals. Inspired by the Bhagalpur Acid Blinding cases.

Apharan: Another movie about the criminal-political nexus in Bihar, especially the thriving kidnapping industry. Nana Patekar and Ajai Devgn star.
Also shot outside Bihar.
Prakash Jha has also made a docu-drama about the life and times of Jayapraksah Narayan, the leader who coined the term 'total revolution' and was the guiding force for the political movement that resulted in the removal of Indira Gandhi's Congress Government in 1977.

Political Films by Ram Gopal Verma
People know Ram Gopal Verma for the realistic crime drams but there ahs always been politics in the background of his best movies.

Shiva: A 1990 movie on student politics starring Nagarjuna, this was Verma's introduction in the Hindi film scene in 1990. Gritty. Don't miss Raghuvaran's role as a crime boss who is in cahoots with a politician who uses him and then throws away when not needed. There are few people from my nineties generation who did not have Shiva on their must-see list. The bike chain and the axe-hack scenes etched in the minds of many of us who know campus violence. Verma's penchant for close ups, like the Spaghetti westerns, is on full display here.

Satya: Although Satya is more famous for chronicling the Mumabi underworld and for Manoj Vajpayee's breakout role as likeable gangster Bhiku Mahatre, there is politics in the background in the shape of Mafia overlord Bhau, who wants to get into politics and who finishes off Bhiku as soon as he is elected.

Sarkaar and Sarkaar Raj: These two movies tell the story of the Thackerey clan -type political family in Mumbai and are inspired by the Godfather movies. Sarkaar Raj is more abut the intersection of politicians and businessmen.

While we are with Ram Gopal Verma's films, it is worth noting that most Gangster movies have a politics angle, where a gangster is getting into politics or is flourishing under political patronage.

Good films of this type are:
Vishal Bhardwaj;s Maqbool and Omkara – Both inspired by Shakespeare's plays.
Mahesh Manjrekar's Vastaav and Kurushetra, both starring Sanjay Dutt.

Films about Student/Youth politics
We have already talked about Ram Gopal Verma's Shiva.

Haasil: Tigmanshu Dhulia's films about student politics in Allahabad is one of the all-time best in the genre and Irrfan Khan has a great role as upper caste student leader who falls in love and does all he can do win his girl.

Gulaal: Anurag Kashyap's ambitous 2009 movie tries to cover a lot of ground - student politics, separatist politics, kings of rajasthan, love triangles. In future, Gulaal will be known more for the acting of K.K. Menon and Piyush Mishra than the story.

Utthaan: A neglected film about an ambitious young man, played by Priyanshu Chatterjee, who will stop at nothing to rise in politics, including using his girlfriend (played by Neha Dhupia) and sucking up to the boss's daughter. Hindi movie produced by Kumar Sanu.

Bas Itna sa Khwab Hai: Including this film in this list is like scraping the bottom of a pretty small barrel. It is a remake of 'Devil's Advocate' with a media-political complex angle. Jackie Shroff's media magnate makes a political star out of simpleton Abhishek Bachchan, only to exploit him later. Weak script and typical Bollywood flourishes (the songs, for example) destroy a promising storyline. Besides, this film is from the phase when Abhishek Bachchan was learning to act. He is still learning.
Did I miss any good movie? Please share.
P.S.: Hope to see a movie about booth looting, rigging EVMs soon.
If you liked this, please check out The Success Manual,  the popular compilation of advice on 25 essential Business skills and Career skills - Business Management, Marketing, Selling, Starting a Business, Communication, Writing...and much more.