simplemba
on 15/04/10
city:
San-Fransisco
tags:
Education and Schools
doweneedmbas
simpleguide
Comment: 0
Save: 0
Business knowledge is not a monopoly of business schools, This fact is well known. How does a proper business education (MBA) feature in various business roles and industries? A quick look:

The IT Industry
Known fact: Most IT startups happen without MBAs on board. They hire MBAs at a later stages, that too mostly people who have managed to build relationships and a solid experience in the industry.

Guy Kawasaki (he is an MBA): You do not need MBAs
I don't think an M.B.A. matters very much for starting a company. A much better educational background is an engineering degree. You can always hire MBA's, but if you don't have the ability to conceptualize and deliver a product, you've got nothing...the value of an MBA for company starters is a negative $250,000.


It is a well known fact that MBAs increase your run rate, the amount you are spending each month. This means you need to make sure the MBA guy is paying his salary out 10-times, if not less.

A CIO article on the need for MBAs in IT industry echoes Guy's sentiments:
An MBA won't teach you everything you need to know to be an effective IT leader.
Sure, an MBA will teach you about strategy, operations, finance, marketing and sales. But it won't teach you the soft skills that are critical for effectively managing staff and influencing colleagues. Nor will the MBA teach you how to navigate corporate politics—another extremely practical and important competence for successful IT leaders.

To be an IT executive, you really need to know technology first and foremost.
All of this talk about the importance of the MBA degree for IT executives puts too much emphasis on business knowledge. The reality of what I have to do every day is this: I have to make a variety of different systems work and talk to each other. I have to enable to the business. I certainly have to be able to talk to the business, but if I don't understand how my systems work, there are going to be cost overruns and project failures. Two-thirds of all software projects fail because they're mismanaged by business people who don't emphasize what actually has to happen to make technology work. The fact that the technical skills associated with integrating IT systems is de-emphasized over having business skills, especially in large enterprises, is one of the leading causes of IT project failure. That's a big sticking point for me. It proves that business knowledge does not translate into IT knowledge. IT knowledge, on the other hand, is applicable to any business, regardless of industry. You have to understand IT to run IT.



Brad Feld (Venture Capitalist): You need MBAs
If you want a two-year break from life, go to business school. If you want to meet a bunch of new, generally smart, and always interesting people, go to business school. If you are a techie but like the business side of things, want to get an intellectual (and functional grounding) in business stuff, want a two year break from life, and want to meet interesting people, go to business school.

If you are an investment banker or a management consultant, it will help. If you are looking to be a VC, it might help, but it probably will not, as the population of people being recruited into the VC business continues to be very small.

Becoming a CEO will ultimately be determined more by your ability to scale social ladders than what you have learned in graduate school.


MBAs are useless and that is why companies fire/don't hire during recession
Abheek Barua says that 'Over-education and overspecialization help neither the employee nor the employer'.
(in Recession) Why do they end up hiring MBAs for these tasks? The answer according to me is simple. It is convenient to hire from these schools because they run a placement service that ordinary degree colleges do not offer. That is, these schools provide the basic institutional structure of a labor market. They match demand and supply for which they charge an intermediation fee. This cost of intermediation for a student in terms of both time and money is preposterously high; for society as a whole it is a deadweight loss.


He also a solution for companies who want to have business-savvy employees:
The way around this quite obviously is not to create more business schools or specialist business programmes. Policy has to focus more on creating more placement facilities for existing degrees and incentivizing in-house training by companies.
Besides, I am a great supporter of industry-specific, examination-based certificate programmes that can be done on the job. (An example: The Institute of Bankers used to run a highly regarded program for bankers that lost its sheen because of the MBA craze.)


MBAs Are Not Necessarily Motivated Employees
"Those who get an MBA are primarily taught how to run a company. Students spend time learning how to balance risks and rewards, which doesn't lead one to take the crazy chances that entrepreneurs [need to] take,"

- Lloyd Shefsky, a professor at Kellogg School of Management at Northwestern University and author of Entrepreneurs Are Made Not Born: Secrets from 200 Successful Entrepreneurs

Do Entrepreneurs MBA degrees?
The general consensus, and I am an entrepreneur as well, is that you do not need a MBA degree to seize the opportunity and start a business. However, you might need people with industry contacts and experience and some of them might be MBAs. To save money on the salaries, you might consider going in for a quick Executive education course.

Let the conversation continue.

Read more on this topic
Do we need MBAs - The Presentation
The Manager's Bible: 100+ Things That Every Manager Should Know

Have you looked at The Success Manual, The Encyclopedia of Advice? A list of all the articles in the guide on one page can be accessed here.
Share This
Contact Publisher
Permalink
---
Latest Comments
---
Would you like to comment on this item?
Join BigHow for a free account, or login if you are already a member

<!//END OF FRAME DIV //START OF RIGHTFRAME2>

<!//START OF RIGHTFRAME1>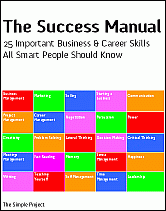 ---
---