booklist
on 13/12/10
city:
London
tags:
book list
comics
Comment: 0
Save: 0
Yes, women do read comic books. It should not be considered a coincidence that one of most notable graphic novels (a related genre) of the last decade was written by a woman(Re: Persepolis). Jezebel lists some comic books that women actually read and love.

From the Jezebel list, a summary:
Queen & Country: About a British spy.
Secret Six. By Gail Simone: Features GLBT characters in both hero and villain roles. Also read Birds of Prey by the same author.
Classic X-Factor: jezebel calls it 'Hilariously soap-opera-esque'.
Alias: The heroine is a foul-mouthed P.I. Jessica Jones who was formerly a superhero.
Runaways: The premise is this - what if your parents really are supervillains?
Astonishing X-Men: From Joss Whedon, the famous creator of Buffyverse and Firefly TV series.
Invincible Iron Man: Features ensemble writing about the man in the metal supersuit.
Want to read the greatest books of all time but have no time or money? Check out The Success Manual. It contains summaries of 200+ greatest business and self-help boooks and much more!
Share This
Contact Publisher
Permalink
---
Latest Comments
---
Would you like to comment on this item?
Join BigHow for a free account, or login if you are already a member

<!//END OF FRAME DIV //START OF RIGHTFRAME2>

<!//START OF RIGHTFRAME1>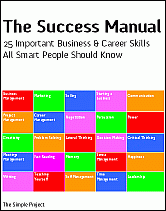 ---
---