thesuccessmanual
on 07/05/12
city:
New-York
tags:
book summary
remarkable
Comment: 0
Save: 0
T.D. Jakes\'s book covers the idea of unforgiveness, which he says is a \'cancer of the soul that metastasizes if gone unchecked.\' Jakes idea is that each of us perform an "emotional self-examination" to prevent unresolved issues from multiplying.

However, the idea of forgiveness is an old one, and it could have been an article than a book - where, in absense of copelling historical examples, it becomes repititive after the first few pages.

If you liked this, please check out these great collections of useful advice:
1. The Gist: 1000+ Big Ideas From 200+ Greatest Business & Self-Improvement Books of all time.
2. Rules for Startups: A Never-Before Compilation of Big Ideas About Startups from 50+ Best Books on Entrepreneurship.
3. Rules for Writers: 200+ Big Ideas About All Aspects of Writing from Great Writers.
4. The Success Manual - h 600+ pages of compiled wisdom on 125 important traits, skills and activities.
Share This
Contact Publisher
Permalink
---
Latest Comments
---
Would you like to comment on this item?
Join BigHow for a free account, or login if you are already a member

<!//END OF FRAME DIV //START OF RIGHTFRAME2>

<!//START OF RIGHTFRAME1>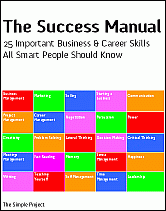 ---
---