thesuccessmanual
on 07/05/12
city:
New-York
tags:
book summary
Comment: 0
Save: 0
Brad Meltzer's book is a lot like Jim Roger's (the famous investor) 'A Gift to my children' book. The only difference being that instead of pithy advice, Meltzer summarizes life stories of fifty-five remarkable people, from a diverse set of backgrounds, which Meltzer simplistically puts as having set out to make the world a better place.

The book is sort of a follow-up Meltzer's best-selling "Heroes for My Son" published in 2011. I wonder what's next? Heroes for my girfriend? I don't like the idea of dividing heroes for genders - heroes are heroes. Ok, back to the point.

The main idea from the book is encapsulated in the introduction, where Meltzer writes:

"Forget the prince. With your brains and your resourcefulness, you can rescue yourself. And when you have your doubts - as we all inevitably do - you will have this book, full of people who were wracked with just as much fear, but who also found the internal strength to overcome it."

I would have liked this book as an app for $1, with cute drawings and quotes.

If you liked this, please check out these great collections of useful advice:
1. The Gist: 1000+ Big Ideas From 200+ Greatest Business & Self-Improvement Books of all time.
2. Rules for Startups: A Never-Before Compilation of Big Ideas About Startups from 50+ Best Books on Entrepreneurship.
3. Rules for Writers: 200+ Big Ideas About All Aspects of Writing from Great Writers.
4. The Success Manual - 600+ pages of compiled wisdom on 125 important traits, skills and activities.
Share This
Contact Publisher
Permalink
---
Latest Comments
---
Would you like to comment on this item?
Join BigHow for a free account, or login if you are already a member

<!//END OF FRAME DIV //START OF RIGHTFRAME2>

<!//START OF RIGHTFRAME1>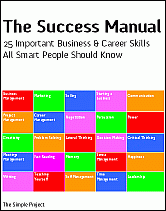 ---
---