bookguide
on 22/06/10
city:
New-York
tags:
greatbooks
book summary
Comment: 0
Save: 0
'How We Decide' is on the lines of social behavior books like Malcolm Gladwell's 'Blink' and also about the relationship between reason and intuition. Unlike Gladwell's interview and case study approach Lehrer focuses more on the inner workings of the brain. He also talks about pilots, quarterbacks, directors, poker players, investors, and serial killers, and about what we know about how each of these sets of people makes decisions

[From the Great Books Series. Also see The Success Manual - Encyclopedia of Advice, which contains summaries of 100+ Most useful books.]

A few insights from the book:
There are two simple tricks to help ensure that you never let certainty interfere with your judgment:
1: Always entertain competing hypotheses. When you force yourself to interpret the facts through a different, perhaps uncomfortable lens, you often discover that your beliefs rest on a rather shaky foundation.
2: Continually remind yourself of what you don't know. Even the best models and theories can be undone by utterly unpredictable events.

Too much thinking can actually lead to bad decisions: Remember 'Hamlet' being about 'analysis is paralysis'?
Whatever marketers might claim, it is still hard to pinpoint with accuracy what will the consumer actually choose.

The formula for effective decision-making:
Simple problems can be effectively solved via reasoning. Sometimes, a calculator is enough.
Share This
Contact Publisher
Permalink
---
Latest Comments
---
Would you like to comment on this item?
Join BigHow for a free account, or login if you are already a member

<!//END OF FRAME DIV //START OF RIGHTFRAME2>

<!//START OF RIGHTFRAME1>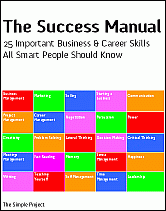 ---
---