thesuccessmanual
on 24/03/10
city:
New-York
tags:
remarkable
simpleguide
Comment: 0
Save: 0
This guide belongs to 100 Ways To Be Being Remarkable Series, a special project that brings you business and self-development advice from The Success Manual.

This is the sister piece to the advice about being kind.

Call your Parents. Now.
- Anon.

The City hurts our brains and heavies our hearts.
- Anon.

Treat older women as if they were your own mother.
- C. Mathis

10 PHRASES WE MUST SAY OFTEN
1. "Hello."
2. "Thank you."
3. "Please."
4. "Here, take my seat."
5. "This one's on me."
6. "Let me help you with that."
7. "I don't think we've met. I'm [name]."
8. "What I'm really passionate about is…"
9. "Have a great day!"
10. "I love you."

5 THINGS
Wrap up a surprise present.
Do other people's chores.
Buy kids their favorite candy.
Put together a book of their achievements.
Give them a day off.

If you liked this article, please bookmark it on Delicious or share on Twitter. Thanks, friends. Follow us on Twitter.
We don't recommend any other guide than our very own The Success Manual - Encyclopedia of advice to 130 most important skills.
Share This
Contact Publisher
Permalink
---
Latest Comments
---
Would you like to comment on this item?
Join BigHow for a free account, or login if you are already a member

<!//END OF FRAME DIV //START OF RIGHTFRAME2>

<!//START OF RIGHTFRAME1>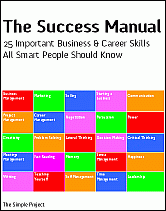 ---
---