thesuccessmanual
on 24/03/10
city:
New-York
tags:
remarkable
quotes
Comment: 0
Save: 0
This guide belongs to 100 Ways To Be Being Remarkable Series, a special project that brings you business and self-development advice from The Success Manual.

The word (asshole) is mainly used as a profanity towards someone the speaker does not like or whose behavior is hurtful, self-centered, or particularly abrasive.
- Wikipedia

The worst part about being an asshole is that you don't realize it!

Stay away from men who mistreat waiters and pets.
- Anon

TWELVE EVERYDAY ASSHOLE ACTIONS
1. Personal insults
2. Invading one's personal territory
3. Uninvited personal contact
4. Threats and intimidation, both verbal and non-verbal
5. Sarcastic jokes and teasing used as insult delivery systems
6. Withering email flames
7. Status slaps intended to humiliate their victims
8. Public shaming or status degradation rituals
9. Rude interruptions
10. Two-faced attacks
11. Dirty looks
12. Treating people as if they are invisible
- Robert Sutton , 'The No Asshole Rule'

If you liked this article, please bookmark it on Delicious or share on Twitter. Thanks, friends. Follow us on Twitter.
We don't recommend any other guide than our very own The Success Manual - Encyclopedia of advice to 130 most important skills.
Share This
Contact Publisher
Permalink
---
Latest Comments
---
Would you like to comment on this item?
Join BigHow for a free account, or login if you are already a member

<!//END OF FRAME DIV //START OF RIGHTFRAME2>

<!//START OF RIGHTFRAME1>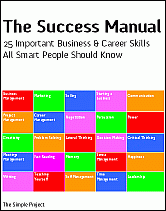 ---
---