bookguide
on 09/08/12
city:
New-York
tags:
Books and Literature
remarkable
book list
Comment: 0
Save: 0
I am getting a nice response to my list of 100 great books everyone must read, but I think it would be too arrogant of say that there can be any ultimate book list. Here are some more books you should read ASAP.

Fiction:
I can't say anything about these great reads I have just gone through:

The Stranger by Camus (everyone must be acquainted with ideas of Camus - I wish i had read it sooner)
A Good Man is hard to find by Flannery O'Connor
The Lottery by Shirley Jackson
The Giver by Louis Lowry
Watership Down by Richard Adams
High Rise by JG Ballard ('Lord of the flies' for adults)
Stranger in a Strange Land by Robert Heinlein

Nonfiction:
The Myth of Sisyphus, by Camus
Amusing Ourselves to Death, by Neil Postman
The Stoic Philosophy of Seneca
The Hagakure by Yamamoto Tsunetomo
The World's Religions by Huston Smith
Fast Food Nation by Eric Schlosser (the growing rule of fast food companies)
Nothing to Envy: Ordinary Lives in North Korea by Barbara Demick (by people lucky enough to escape)
A Short History of Nearly Everything by Bill Bryson
The Selfish Gene by Richard Dawkins
Failed States, Noam Chomsky
The Shock Doctrine, Naomi Klein
Globalization and its Discontents, Joseph Stiglitz
Free Culture by Lawrence Lessig

For young people (aka Young Adult novels):
Sophie's World: A Novel about the History of Philosophy
Battle Royale by Koshun Takam (and its American copy The Hunger Games by Suzanne Collins)
The Poison Study series by Maria Snyder
Blood and Chocolate by Annette Curtis Klause
Swordspoint series by Ellen Kushner
Ender's Game series by Orson Scott Card
Queen's Own Fool by Jane Yolen and Robert Harris
Looking for Alaska by John Green
Going Bovine by Libba Bray
Uglies series/Leviathan by Scott Westerfeld
The Dispossessed by Ursula K. LeGuin
Any of Robin McKinley's books - The Blue Sword, The Hero and the Crown, Sunshine...

Non Fiction for the young:
Schoolgirls by Peggy Orenstein
The Teenager's Guide to the Real World by Marshall Brain

Books to ignore at all cost:
Don't read anything by Ayn Rand - All you would get is that you must be selfish, and the world is beneath you.

Related: 100 great books everyone must read
50+ great books on individual, important historical events

If you liked this, please check out The Success Manual - 600+ pages of compiled wisdom on 125 most important business and self-improvement topics.
Share This
Contact Publisher
Permalink
---
Latest Comments
---
Would you like to comment on this item?
Join BigHow for a free account, or login if you are already a member

<!//END OF FRAME DIV //START OF RIGHTFRAME2>

<!//START OF RIGHTFRAME1>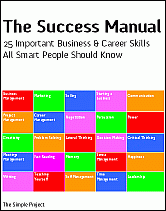 ---
---