thesuccessmanual
on 24/03/10
city:
New-York
tags:
remarkable
simpleguide
Comment: 0
Save: 0
This guide belongs to 100 Ways To Be Being Remarkable Series, a special project that brings you business and self-development advice from The Success Manual.

1. Cut down on fast food.
2. If you have to, eat healthy fast food, with vegetables and less oil.
3. Eat your green vegetables.
4. Eat less red meat.
5. Eat whole foods and grains.
6. Minimize "white" foods -- white flour, white rice, white sugar.
7. Drink 1.5-2L of water per day at the office.
8. Walk 4-5x as much as you used to.
9. Find healthy alternatives for your daily food, habits and work style.
10. Watch what you eat during travel and office commute: Take your healthy food with you if you have to. Order less room service.
11. Take your vitamins and supplements under a doctor's supervision.
12. Stay clear of all diet fads: Just eat normal and work that out through exercise and a physical lifestyle.
13. The simplest exercises are: walking, running, swimming, stretching, deep breathing, use your office stuff as weights.
14. Work less: Cut down on the stress. Take it easy. What's the hurry?
15. Less alcohol.
16. Stop smoking.
17. Brush your teeth more often. Rinse multiple times a day. Start flossing.
18. Weigh yourself every week.
19. Meditate
20. Keep your mind active.
21. Connect/Reach out to others
22. Wear a helmet or a seatbelt
23. Smile
24. To heal the emotional body, "the truth will set you free."
25. People who floss their teeth live longer
26. Wash your hands
27. Actually get enough sleep.
28. Never stop moving. The moment you stop moving (whether it be mentally, socially, or physically) as an adult, you'll stop for good.
29. Everything in moderation. Including moderation.

STAY HEALTHY AT WORK
1. Setup your work environment to be ergonomic
2. Try using an ergonomic mouse and keyboard
3. Remember to look up from your monitor
4. Sit up and stop slouching
5. Keep yourself hydrated
6. Take regular rest breaks
7. Look after yourself before it is too late
8. Get 20 minutes of exercise in the morning, 3 times a week
9. Take the stairs

If you liked this article, please bookmark it on Delicious or share on Twitter. Thanks, friends. Follow us on Twitter.
We don't recommend any other guide than our very own The Success Manual - Encyclopedia of advice to 130 most important skills.
Share This
Contact Publisher
Permalink
---
Latest Comments
---
Would you like to comment on this item?
Join BigHow for a free account, or login if you are already a member

<!//END OF FRAME DIV //START OF RIGHTFRAME2>

<!//START OF RIGHTFRAME1>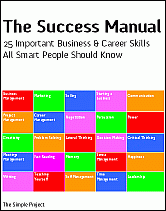 ---
---