bookguide
on 24/06/10
city:
New-York
tags:
greatbooks
book summary
Comment: 0
Save: 0
Rework is the second successful book by the guys at 37 signals. Earlier, Getting Real got a lot of praise for its guidelines on web application development. While Getting Real was full of advice fro web development, Rework deals with Common-sense management.

Highlights from Rework:

1. The best time to start a company is now
2. Start small and don't be impatient
3. Don't make a five-year plan – it's just guesswork
4. Don't depend on raising capital if you can help it
5. Don't employ people unless you need to
6. Marketing is just spam – do it yourself
7. Leave out features in favour of quality
8. Listen to your customers – feedback is everything
9. Don't work too hard – if you are you're doing it wrong
10. Meetings are generally a waste of time
11. Meeting organisers are a waste of space (& money)
12. Make sure you enjoy it.

[From the great books series. Also read The Success Manual - Encyclopedia of advice.
Share This
Contact Publisher
Permalink
---
Latest Comments
---
Would you like to comment on this item?
Join BigHow for a free account, or login if you are already a member

<!//END OF FRAME DIV //START OF RIGHTFRAME2>

<!//START OF RIGHTFRAME1>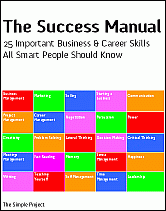 ---
---